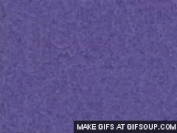 Splaat was a production logo used in Klasky-Csupo shows and movies from 1998 to 2008, and again from 2012 to present. It starts with a purple background with a pattern of TV static signal. A black blob of what looks like thick ink appears over a blue blob of ink. A random model hand looking like it was cut out of a magazine swipes across the screen dropping two cartoonish eyes and a mouth with lips that seem like the model wore too much lipstick, each on a yellow strip. Splaat's computerized voice says the company name with CGI letter blocks flying out of his mouth. The blocks form the Klasky-Csupo company logo with the "Y" in white and become 2-D. Two lines shut out the "scarring" face turning the "Y" purple. The logo turns still. As Splaat retains his large grin, a twang is heard. We then hear 3 cartoon sound effects in order: A lip flapping sound, a duck quack, and a boing. Splaat can be seen on Klasky-Csupo shows and movies starting with The Wacky Adventures of Ronald McDonald, even the Spongebob Squarepants episode 'Wet Painters/Krusty Krab Training Video'. It was mistaken to be animated by Klasky-Csupo thus this logo was shown in 2002 (though it was fixed in 2006). It was when Nickelodeon started doing split-screen credits for the shows. Nick used two different sets of credits: one for Klasky-Csupo cartoons because at the time it was the only production company that produced multiple cartoons for Nickelodeon, and generic Nick credits. Nick accidentally used the credits of the Klasky-Csupo shows that included Klasky and Csupo in the credits and the Splaat logo. The logo was accidentally programmed onto the show's end credits. Splaat is going to be in a new Web Series by Klasky-Csupo based off of him and he has his own FaceBook page.
Alternative Version
This version appeared on The Wild Thornberrys Movie in 2002, The Radical Teens in 2018, Jungle Adventure: The Movie in 2022 & Jungle Adventure 2: Escape to New York. It has many differences from the normal version. Rather than a static purple background, there is a black background as this logo is transitioned from the blank screen from the end credits. The animation is cheaper in a few aspects, including the black ink being still and the eyes being flipped on Splaat to look down and up rather than being animated. The black lines don't appear to show the still K-C logo on a black background. Instead, the Y flashing from white to purple cuts out Splaat and the ink. Also, Splaat stares at us throughout his screen time and smiles very pervishly once he's finished saying the company name.
Ad blocker interference detected!
Wikia is a free-to-use site that makes money from advertising. We have a modified experience for viewers using ad blockers

Wikia is not accessible if you've made further modifications. Remove the custom ad blocker rule(s) and the page will load as expected.