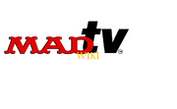 MADtv was a late-night sketch comedy show on Fox. It has often been compared to NBC's Saturday Night Live because of it being that show's longest lasting competitor. The show has been on for 14 seasons starting in 1995. Currently, Fox has cancelled the show at the end of the current season, but the creators of the show are looking for a possible new network.
Season list
Ad blocker interference detected!
Wikia is a free-to-use site that makes money from advertising. We have a modified experience for viewers using ad blockers

Wikia is not accessible if you've made further modifications. Remove the custom ad blocker rule(s) and the page will load as expected.